Oral Cancer also referred to as Mouth Cancer encompass cancer of gums, tongue, lips, cheeks, floor or roof of mouth. It needs to be detected as early as possible through oral cancer screening to increase one's chances of survival.
Oral Cancer is divided into two categories
Those occurring in the oral cavity (lips, cheeks, teeth, gums, front 2/3rd of the tongue, floor and roof of the mouth)
Other, which occur in the Oropharynx (middle of the throat, tonsils and base of the tongue)
What are the Symptoms of Oral Cancer?
Visit our dentist in Ballantyne if you experience the following, and they do not disappear after two weeks:
Red or white patches
Painful, tender or numb lesions in mouth or lips.
Sore or irritation that does not go away
New difficulty in chewing, swallowing, speaking or moving your tongue or jaw
A lump, thickening, crust or eroded area
What are the factors that increase the risk of Oral Cancer?
Risk factors of oral factors are:
Smoking
excessive alcohol consumption
Exposure to sunlight
Sexually-transmitted infection called human papillomavirus (more commonly known as HPV)
HPV-positive head and neck cancers increase the chance of throat cancers in non-smoking adults and can develop in throat at the base of the tongue and in the folds of the tonsils making them difficult to detect.
Regular dental check-ups that include an examination of the entire head and neck can be vital in detecting cancer early.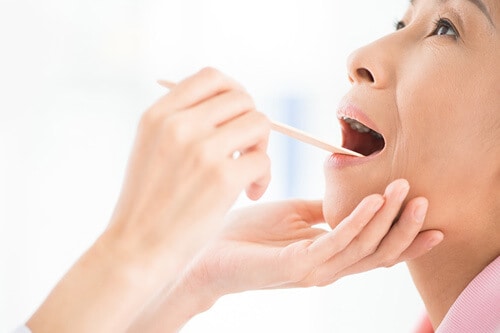 Why is it important to diagnose Oral Cancer?
In the United States, approximately 53,000 Americans will be diagnosed every year with oral and oropharyngeal cancer. It will cause over 10,000 deaths every year and kills roughly 1 person every hour, every day.
Oral cancer is twice as common in men as women and is occurring more frequently in individuals under 40 years of age. If the cancer is diagnosed at an early stage, the overall 5-year survival rate is 84%, which are great odds. Unfortunately, late diagnosis leads to a 5-year survival rate of less than 50%.
How can our Oral Surgeon help detect and/or diagnose Oral Cancer?
At Apollo Dental, a Ballantyne dental clinic in Charlotte, we perform a thorough evaluation. Our oral screening for mouth cancer evaluation includes analyzing changes in the medical history and development of new or unusual symptoms.
Dr. Ishita Seth and her staff will check your oral cavity, lips, cheek lining epithelium, gums, front and back of your tongue; floor and roof of the mouth including tonsils, jaw and neck for any lumps or abnormalities.
Early detection of potentially malignant oral lesions can improve clinical outcomes and quality of life. There are various technologies available to aid in early oral cancer diagnosis. We proudly utilize a technology called Goccles in our dental clinic to screen for oral cancer and precancerous lesions.
Goccles Oral Cancer Screening
Goccles is a special eyewear equipped with innovative optical filters used in conjunction with a curing light. It is a non-invasive, painless technique which allows rapid screening in 1-2 minutes. It is one of the most useful oral cancer screening devices today.
The special optical filter allows the dentist to visualize abnormalities. The tissue auto-fluorescence achieved contributes to the detection of the margins of precancerous and cancerous lesions. Goccles was awarded as the winner of 2019 Edison Best New product silver award.