Cone Beam Computed Tomography is an innovative medical imaging technique that provides our dentist in Ballantyne, NC with three-dimensional views of the patient. During a CBCT scan, the machine rotates around the patient, capturing images using a cone-shaped X-ray beam. These images are then used to construct a 3D representation of the patient's teeth, oral and maxillofacial region (mouth, jaw, and neck), and ears, nose, and throat.
Planmeca 3D imaging units offer the proprietary Planmeca Ultra Low Dose™ imaging protocol that enables 3D imaging with an even lower patient radiation dose than standard 2D panoramic imaging. The pioneering imaging protocol lowers effective patient doses significantly without a statistical reduction in image quality – known as the ALARA principle (As Low As Reasonably Achievable). It helps clinicians for better diagnosis and treatment planning.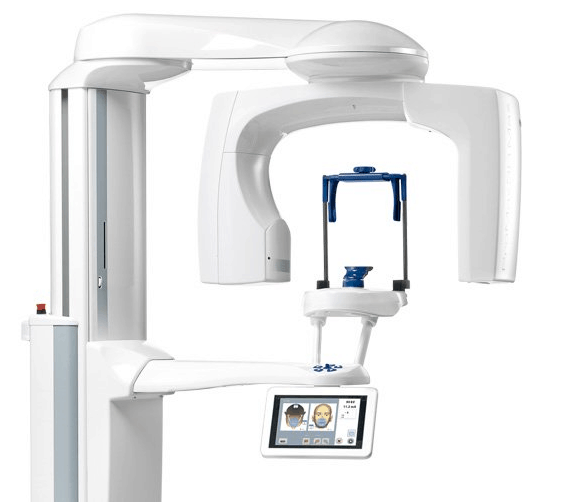 Why is 3D better than 2D imaging?
With 3D imaging, we discover unknown problems, obtain the diagnosis sooner and often find a diagnosis which we might have missed. With approval from Planmeca, we are providing a link from an article that compares the different examples. If we had been using a 2D panoramic system alone, we would have arrived at a VERY DIFFERENT TREATMENT PLAN. The technology aids to make the RIGHT TREATMENT PLAN for the best patient care.
Air abrasion is a drill-less technique that is being used by some dentists to remove early, small areas of tooth decay and to perform other procedures. During air abrasion, a fine stream of particles is aimed at the stained or decayed portion of the tooth. These particles are made of silica, aluminum oxide, or a baking soda mixture and are propelled toward the tooth surface by compressed air or a gas that runs through the dental handpiece.
Air abrasion generates no heat, pressure, or vibration. For shallow cavities, it reduces the need for anesthesia. It reduces the risk of fracturing and chipping of the tooth, which some dentists believe can affect the life span of the filling. The crowns, onlays and inlays cannot be prepared using air abrasion.
If you are a patient who tries hard to maintain optimum oral hygiene at home but still struggles with cavities and tooth decay, we may have a solution for you. At Apollo Dental, we use CariFree®. CariFree® offers a wonderful line of products that help reduce bacteria and acidity in the mouth and bring pH back into balance to reduce caries formation and prevent decay and cavities.
Digital x-rays use less radiation than traditional x-rays, so they are generally much safer for patients and for technicians. They are also much more convenient as they can be taken in a matter of moments and viewed alongside your doctor right from the dental chair. This gives patients better insight into their state of oral health and allows them to take a more active role in their oral health decisions.
"A picture is worth a thousand words." Intraoral cameras are digital cameras that enable our dentist to capture images of difficult to reach areas in the mouth. The camera is handheld and allows the dentist to enlarge images of the tooth surfaces, gum conditions and tissues. It can capture clear video and images of the corroded or tarnished fillings, hairline fractures, bleeding gums, plaque, and several other critical teeth problems in real-time. The oral lesions, fractured teeth, periodontal conditions, cosmetic improvements can be visualized on a big screen and can help the patient understand their mouth issues.
Advanced laser technology can be used to detect tooth decay at the earliest stages. The laser diode inspects individual teeth by comparing the baseline wavelengths of healthy teeth to find areas of demineralized tooth. As a comparison –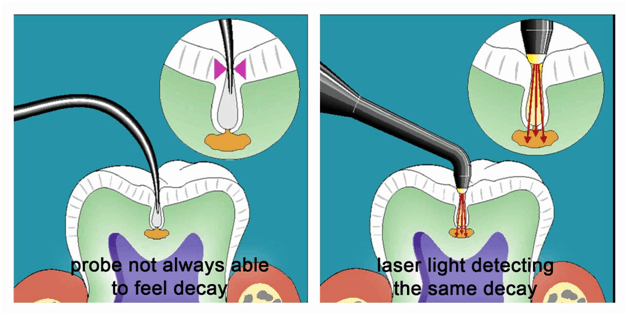 We will inspect each susceptible tooth to hunt out demineralization and offer the minimally invasive treatment. The sooner a cavity is detected and stopped, the healthier is the tooth structure. Our team at Apollo Dental in Ballantyne will aid the patients to keep their teeth strong and healthy.
Computer Assisted Anesthesia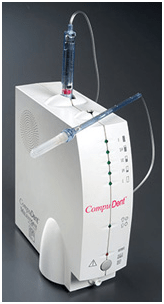 No more syringes, no more pain. "The Wand," the computer-assisted delivery of local anesthesia numbs faster and more effectively. We also offer patients laughing gas and medications to ease anxiety. Call us at Apollo Dental for more details about our advanced dental technology in Ballantyne, NC.